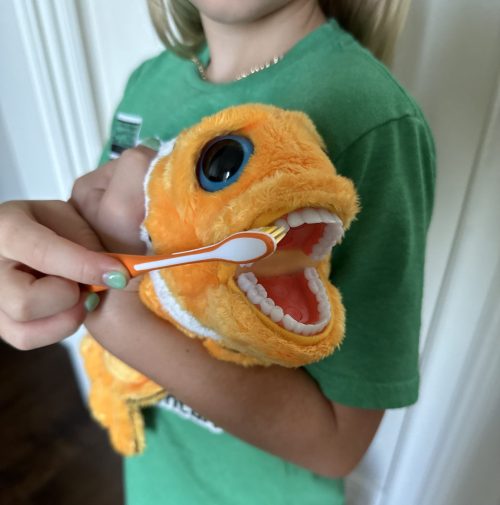 At Lifetime Dental, we know how important it is for little smiles to be happy smiles. Our amazing dentists and dental hygienists work to instill healthy habits in our pediatric patients, and educate in a way that gives a positive association with dental care.
Your Child's Best Northwest Arkansas Dentist is at Lifetime Dental
From looking at the fish tank to brushing a stuffed animal's fishy teeth, we strive to make first visits fun and stress-free. Our goal is to have your child ask if they can come back tomorrow!
Lifetime Dental currently serves families and pediatric patients from Rogers, Bentonville, Centerton, Gravette, Cave Springs, Bella Vista, Lowell, Springdale, Pea Ridge, and even extending past NWA! No matter how far they travel for a dental visit, we provide premier, age-appropriate, dental services for children as they grow. This means everything from preventive checkups, teeth cleanings, myofunctional therapy, oral health maintenance for cavities, sealants, and more. Sealants are a key protective barrier between food particles and bacteria, and your child's enamel. We also offer fluoride treatments, nutritional counseling, and are always happy to answer your questions. Your child's dentist will also share any findings following their checkup.
Our office also has dental educational material to help you help your child understand everything at your dental exam. A member of our team can also show you the best techniques for cleaning your child's teeth effectively, and we work with your child when the time comes to transition to independent brushing and flossing.
Fun Facts:
– Our Lifetime Dental Team members have 43 children and 24 grandchildren combined! We love kids!
– Dr. Trent Gubler worked and trained at a Pediatric dental office for over two years after graduating from dental school. He received specialized training in pediatric sedation.
– Dr. Kristi Gorman is trained in Orofacial Myofunctional Therapy, which includes MyoBrace, a preventive pre-orthodontic treatment geared toward children ages 5-15 years old.
– Dr. Todd Hill owned a family practice in Colorado for over 25 years, caring for many children and teens throughout the years.
We look forward to scheduling your child's check up soon, and helping answer any questions you have on caring for your child's teeth. Please CALL OR TEXT479-631-9393 today!