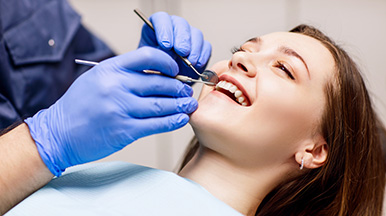 We want to help you enjoy healthy teeth for your lifetime. This means that we provide long-term dental care and place high value on preventive services, such as dental cleanings and exams. Whether you are 2 or 102, we are here to help you maintain your best oral health!
Dental Cleanings and Checkups
Your regular dental checkups are essential for maintaining your best oral health. A thorough, professional dental cleaning occurs at your hygiene visit every six months; sometimes more frequently as desired, or recommended by your dentist. Over time and through use, your teeth accumulate plaque, which can lead to dental decay and cavities. During your visit, your hygienist and dentist can address any dental concerns you may have.
At your cleaning appointment, your hygienist will perform:
Head and neck cancer screening
X-rays, as needed
Periodontal charting – the evaluation of gum tissue and bone supporting your teeth
Prophylaxis – professional dental cleaning to prevent disease
Periodontal debridement – root scaling and planing for patients with periodontal concerns or heavy tartar buildup under the gums
Oral hygiene instructions individualized for your needs
Flossing between teeth
Fluoride treatment, as needed, to help remineralize the tooth enamel, which can help prevent decay and decrease sensitivity to hot and cold
Dental Exams
Your regular visits give you the opportunity to address any dental concerns or questions you may have, as well as stay up-to-date with latest treatments. Dr. Gubler, Dr. Gorman, or Dr. Hill will perform a thorough exam, review any X-rays, which helps examine teeth in more detail and beneath your gumline. Your dentists will visit with you to discuss any findings, address your questions, and go over treatment options.
Oral Cancer Screenings
We include oral cancer screenings as a regular part of your hygiene exam, allowing our dentists to examine your mouth for any abnormalities. Oral cancer can develop in any part of the mouth, including the tongue, lips, cheeks, gums, throat, sinuses, and the soft and hard palates. It typically appears as odd discolorations, lumps or bumps. Patients may experience consistent soreness in the neck, mouth or throat; bleeding or numbness; and difficulty chewing, speaking or swallowing. We take this important step in our exams to ensure your oral optimal health.
Treatment Plans
If you need restorative care or another treatment, our team with provide you with a treatment plan so you know what to expect. We can also schedule any appointments for those treatments. If your teeth are healthy, congratulations! We will see you in another six months at your next visit!
Contact Lifetime Dental today at 479-631-9393 for your next dental cleaning in Rogers, Arkansas.