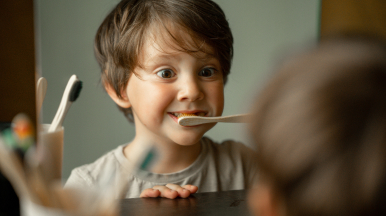 A child's first visit to the dentist should be an enjoyable adventure! From the moment you arrive, and throughout your visit, we do all we can to help your child – and your whole family – feel welcome and at ease during your visit.
Adopting Healthy Oral Hygiene Habits
As soon as the first tooth arrives, help your little one learn that brushing can be fun! When a baby's tooth erupts, parents should brush it with a soft-bristled toothbrush and a tiny amount of toothpaste. For children younger than two, do not use fluoride toothpaste unless advised to do so by our office or another healthcare professional. We suggest reviewing proper tooth brushing procedures with your child often. Your child's primary or baby teeth will begin to appear between the ages of six and 12 months, and will continue to erupt until about age three.
The American Academy of Pediatric Dentistry recommends a dental visit by a child's first birthday. Your child's first visit at Lifetime Dental will likely be a Happy Visit, a fun and interactive introduction to the hygienist and dentist. We recommend talking to your child about the dentist and reading books together about the dentist beforehand. This helps prepare them for their first visit with Dr. Gubler, Dr. Gorman, or Dr. Hill, prompting curiosity and an eagerness to learn and interact with our team.
Establish Regular Checkups
Our dentists and team recommend routine dental visits for your child starting as soon as their teeth come in. Their regular and consistent dental care during childhood starts a pathway to good oral health for the rest of their life. Making daily oral hygiene and regular dental visits a priority will benefit them throughout their life.
At our office, we take the time to get to know your child and work at their pace so they feel comfortable. We make a special effort to use pleasant, non-frightening, simple words to describe each treatment. We want to create a positive experience, making going to the dentist fun and exciting. We provide children (and their parents!) with educational material and guide them through developing proper oral hygiene habits so they can maintain their smile as they grow.
We welcome any questions about your child's dental care and encourage you to ask. Call us at 479-631-9393 today to learn more about our pediatric dentistry in Rogers, Arkansas.