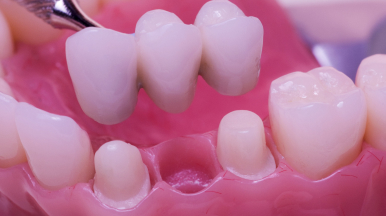 We know that missing a tooth can be difficult, but at Lifetime Dental, we are glad to offer solutions to restore and renew your smile. One of these solutions is a dental bridge.
What Is a Dental Bridge?
A dental bridge is a fixed oral appliance that replaces missing teeth with artificial teeth in a row, such as those missing from one side of a dental arch. It is usually held in place by either dental crowns or dental implants and is custom tailored to fit your mouth in both form and function.
The success of a bridge depends on the oral foundation around the dental bridge, as well as the quality of oral hygiene care at home. The health of the neighboring teeth, gums, and bone are vital.

Benefits
Dental bridges can improve your smile by:
Replacing removable dentures or 'flippers'
Enhancing your smile's appearance
Correcting your bite
Restoring the ability to eat and speak properly
Maintaining the shape of your face
What To Expect
When you come to our dental office, we will take X-rays, as well as scans or impressions of your teeth to create a 3D model of your teeth. Using this model, our dentists and team will then be able to work with our lab to make your new oral appliance. After the lab has completed their work, we will deliver your new dental bridge at your next appointment.
For questions about our options for dental bridges in Rogers, Arkansas, contact Lifetime Dental at 479-631-9393 and schedule a one-on-one appointment with Dr. Gubler, Dr. Gorman, or Dr. Hill.