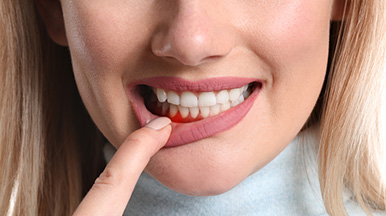 Periodontal disease, also known as gum disease, is far more common than typically believed. Most adult patients will experience some form of the disease in their lifetime, but for those who require extra care, Lifetime Dental offers scaling and root planing treatment.
What Is Scaling and Root Planing?
Also known as a deep cleaning, scaling and root planing is a full-mouth debridement treatment that removes calcium deposits and harmful bacteria from the roots of your teeth. Patients who have progressive periodontal disease often experience gum recession, which is a direct result of gum pockets accumulating tartar and bacteria. By cleaning these pockets and smoothing the roots of your teeth, your gums can begin to heal, thus stopping the progression of gum disease and maintaining or improving your oral health.

What To Expect
Scaling and root planing treatments are recommended during your comprehensive exam with Dr. Gubler, Dr. Gorman, or Dr. Hill when periodontal issues are discovered. Our dentists may recommend this treatment in correlation with other periodontal procedures, depending on the progression of the disease. At your appointment, our hygienist will administer a local anesthetic before treatment, which will help keep you comfortable. Typically, one side of the mouth has treatment per session, so two visits will complete this initial deep cleaning.
You will follow up regularly with periodontal maintenance appointments after that – a specific cleaning to combat periodontal disease. Unlike a regular teeth cleaning, your hygienist will also target tartar buildup between the teeth and gums, monitor pocket depths, and irrigate pockets with medication, if infection is present. These appointment may be recommended up to three or four times a year, to maintain gum health and eliminate the harmful bacteria that comes with periodontal disease.
We welcome you to contact our dental office at 479-631-9393 to learn more about scaling and root planing in Rogers, Arkansas. We want to help you on your way to a healthy and happy smile!