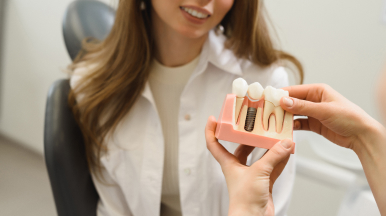 Missing a tooth? Implants are a life-changing transformation for your smile! You may be surprised at how much an implant will increase your enjoyment of eating, smiling, and optimal oral health!
What Are Dental Implants?
A dental implant is a high-tech replacement tooth, positioned permanently into your jaw to replace a missing tooth. There are three parts to a dental implant, all of which we provide here at our office:
Implant Post: The implant post is a titanium screw imbedded in the bone structure of your jaw. It acts as the "root" for your new tooth and is the foundation for your new tooth.
Abutment: The abutment is the connective middle piece that attaches the implant post and supports your new restoration.
Implant Crown: The implant crown, is the visible new tooth that is positioned over the abutment and post.
Benefits of Implants
Because your teeth are held in place by their roots and surrounding teeth, a missing tooth creates a space where nearby teeth may start to shift. New challenges can start to develop, such as bone loss, tooth shifting, and loosening teeth. Dental implants have the natural look, natural function, and natural feel of natural teeth to sustain and improve your oral health. Some additional benefits include:
Enhances your smile and improves self-confidence
Prevents bone loss
Keeps nearby teeth stable
Prevents facial sagging
Improves speech
Increases enjoyment in eating and improved nutrition
Behaves like your natural teeth
What To Expect
At Lifetime Dental, we replace single and multiple missing teeth with dental implants. After meeting with Dr. Gubler, you will receive a treatment plan, outlining the process. An appointment will be scheduled to place your implant. After placement, the initial healing period for your gums is roughly two weeks, and over the following four to six months, your implant will bond within your bone and jaw. You will have several visits with Dr. Gubler, monitoring the treatment progression before final restoration.
Have additional questions or want to schedule a consultation to learn more about dental implants in Rogers, Arkansas? Call Lifetime Dental at 479-631-9393! We are happy to take the time to answer your questions to see if an implant is right for you!