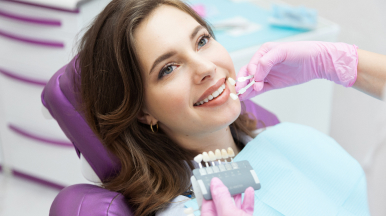 Want a more confident, beautiful smile? Brightening your smile with teeth whitening treatments can be easy at Lifetime Dental. Check out our various options!
What Is Teeth Whitening?
Teeth whitening is a cosmetic treatment designed to remove discoloration from the teeth, helping you have a lighter, whiter, more brilliant smile. It typically uses a whitening solution in the form of gel. Some whitening products use this gel in correlation with light, helping the whitening agent penetrate deeper into the enamel of the teeth for optimal results.
There are two types of teeth whitening:
Take-Home treatments are convenient and effective kits that can be purchased from our office. They come with a list of instructions for at-home care and are simple and easy to apply. Whitening progresses over the course of consecutive daily use from just a few days to ten days. At Lifetime Dental, we offer Opalescence Go™, Phillips Zoom!, and GLO Science® products.
In-Office whitening is an aesthetic whitening treatment that takes place during an appointment at our office. These treatments are professional-grade whitening agents and require monitoring during treatment. Our dental office offers in-office GLO Science® treatments. The office visit generally takes about 90 minutes, and you will be able to see results immediately.
Benefits
Teeth whitening treatments are perfect for patients who want a more youthful appears for their smile, or are preparing for a special occasion. The products are easy to apply, and results can be seen in as little as one use; however, take-home treatments are best when applied daily for 5-7 days in a row, with occasional touch-ups as desired.
What To Expect
Whether you are receiving an in-office treatment or a take-home kit, Dr. Gubler, Dr. Gorman, and Dr. Hill will recommend teeth whitening treatment to meet your needs. Schedule an appointment for teeth whitening in Rogers, Arkansas, by calling us at 479-631-9393. Let us know if you have any questions about our various options.