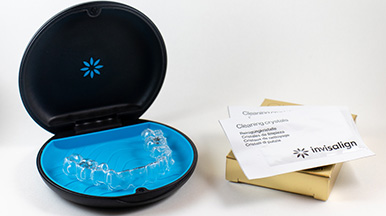 Improving your smile can be life changing! Consider Invisalign® clear aligners to get the beautiful, straight teeth you've always wanted – without braces!
What Are Invisalign® Clear Aligners?
As an orthodontic treatment designed for patients who need minimal to moderate tooth adjustment, Invisalign® clear aligners are an excellent alternative to traditional braces. The clear aligners are custom-made to fit over your teeth and, with each new set, gradually align them into the proper position.

Benefits of Invisalign® Aligners
Because these oral appliances are clear and more comfortable than traditional braces, they allow you to smile more during treatment, as well as after! Because they are made of a clear material, their visual impact is minimal, allowing for a discreet approach to teeth straightening. They are also removable, so you can eat and drink what you want while in treatment, and brushing and flossing are no problem. With no metal or wires, you'll likely spend less time in a doctor's office getting adjustments.
What To Expect
As Certified Invisalign® Providers, our dentists at Lifetime Dental can determine if you are a good candidate for clear aligner therapy. We invite you to schedule an appointment for a complimentary consultation with Dr. Gubler, Dr. Gorman or Dr. Hill. If treatment is possible, the next step would be digital scans, photos, and exam. The images will be used to create your aligners. Once you receive your aligners, your treatment regimen will begin. The aligners are made of a strong plastic material, which you will change every two weeks. With each new and slightly different set, your teeth will move a little more toward proper alignment. Periodic checkups with your dentists, generally once a month, will monitor your progress until your teeth have moved to their final position.
We invite you to learn more about Invisalign® clear aligners and call Lifetime Dental in Rogers, Arkansas at 479-631-9393 for a consultation. Let your best smile shine!