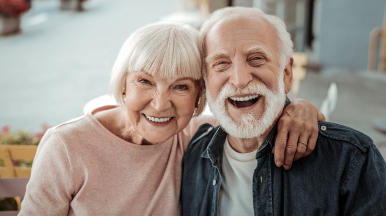 Missing teeth do not have to be the end of your smile. We are thrilled to offer implant-supported dentures in Rogers, Arkansas.
What Are Implant-Supported Dentures?
Dentures are removable oral appliances that are designed to look and function like real teeth. Implant-supported dentures are the permanent alternative to traditional full or partial dentures. They use between two to six dental implants to fix your new smile into place and are completely customized for your mouth and needs.

Benefits
Because implant-supported dentures are fixed into place, patients never have to worry about tooth movement. They can be cleaned just like real teeth, making them perfect for everyday use. More importantly, implant-supported dentures can change your life, restoring your smile and confidence.
What To Expect
If you are interested in implant-supported dentures, please attend a consultation with Dr. Gubler, Dr. Gorman, or Dr. Hill. Our dentists will be able to create a treatment plan for you and provide guidance and recommendations for your treatment. We encourage you to ask questions, and we will be happy to address any of your concerns.
Give Lifetime Dental a call at 479-631-9393 for more details about our implant-supported dentures options and schedule an appointment with our experienced team.