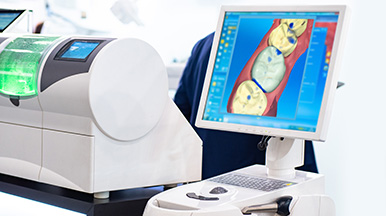 To provide the highest quality service, Lifetime Dental has an ongoing commitment to using the latest in dental technology. These advanced methods allow our dentists and team in NWA to provide our patients a more efficient treatment experience with greater comfort.
CAD/CAM Technology
Traditional tooth restorations may take several days and multiple office visits, but with CAD/CAM technology, we are able to perform same-day tooth restorations. In just one visit, you can have a beautiful, healthy smile! Used for restorative treatments, CAD/CAM technology provides the most precise and efficient restorations possible, such as crowns and veneers.
Digital X-Rays
Digital X-rays are the diagnostic tool of choice in dentistry. Minimally invasive, this technology allows our team to view your teeth beneath your gumline and monitor for any abnormalities in your smile.
Digital Impressions
Gone are the days of uncomfortable, sticky goo impressions! Impressions of your teeth can be taken digitally through our imaging technology, allowing us to create detailed oral appliances for your dental restorations.
Intraoral Camera
Intraoral cameras allow our dentists to view difficult areas of the mouth in vivid, colored detail. As a handheld wand, this tool allows for easy maneuverability, providing more comfort for our patients as we analyze their teeth.
iTero® Digital Scanner
As another diagnostic tool, the iTero digital scanner captures high-quality, 3D images of your mouth. It helps with the creation of oral appliances and can simulate the end result of treatments for patient and doctor viewing.
Learn more about our modern dental technology in Rogers, Arkansas, by calling 479-631-9393 and meeting with Dr. Gubler, Dr. Gorman, or Dr. Hill.