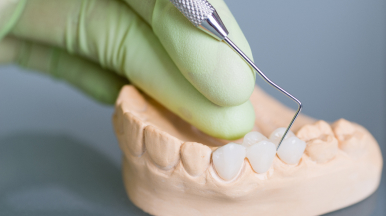 When you have a broken tooth, or one that partially destroyed by decay or teeth grinding, Lifetime Dental offers same day dental crowns to bring your smile back!
What Are Dental Crowns?
Dental crowns are a high-quality restorative, as well as cosmetic, treatment intended to repair excessive damage. Dental crowns are usually recommended when a traditional dental filling is not enough to repair your teeth. Made generally from porcelain material to better match your natural tooth color, it is also the choice for those with metal allergies. The crown restoration "caps" the healthy remainder of your tooth, sealing it against harmful bacteria, and creating a seamless fix for your smile.
Our office offers:
Same-Day Crowns: Advanced technology allows our dentists to provide the most precise CEREC same-day dental crowns. We can create your new crown on-site in just one visit for a beautiful repair. These crowns are made from porcelain – most often preferred because they are translucent like natural teeth, strong, and long-lasting. The same-day process is used for posterior (back) teeth restorations for your smile.
Cosmetic Crowns: Because your anterior (front) teeth are so important to the aesthetics of your smile, we take extra special care in matching the tooth shade to neighboring teeth. Patients will often prefer to whiten their teeth before new anterior crowns are made to assure the most desired outcome. Our preferred dental labs will process the crown to the individualized color and form specifications for your best smile!
Gold Crowns: Less susceptible to chipping and breaking, gold crowns may be an option to consider. Gold crowns make a long-lasting dental restoration and cause the least wear to opposing teeth. Call our office for details about gold crowns, as the cost may be reflected in higher lab fees and the current price of gold.
What To Expect
Your dentist will prepare your tooth for the crown by removing the decayed and damaged portions of your tooth, any old filling material, and necessary enamel in order to make the crown fit perfectly. The remaining tooth is then cleaned and dried, before cementing and sealing the crown over the remaining tooth structure. The crown becomes your tooth's new outer surface.
Your dentist will test your bite to make sure the chewing surface fits well and feels natural. Following the procedure, it is normal to feel slight discomfort, so we recommend warm salt water rinses and Ibuprofen that day, if needed. If, after the numbing wears off, your bite feels that it needs additional adjustment, call us right away for a quick and simple bite adjustment to ensure perfect comfort and fit.
If you need a dental crown in Rogers, Arkansas, call 479-631-9393 to learn more and to schedule an appointment with Dr. Gubler, Dr. Gorman, or Dr. Hill.