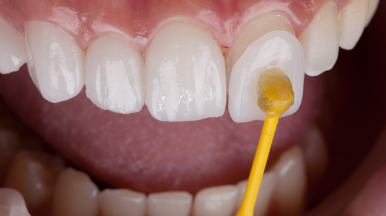 Ready to enhance the appearance of your smile? Dental veneers may be the treatment of choice for you.
What Are Dental Veneers?
Veneers are custom thin shells, usually made of porcelain or a specialized resin, that are adhered to the front surfaces of your teeth. They are sturdy, long-lasting and stain-resistant, and matched to your natural tooth color for a seamless application.

Benefits of Dental Veneers
Dental veneers are primarily used to correct small flaws in your smile such as gapped, chipped or stained teeth. They can also lighten your smile if a brighter veneer is used, creating a more youthful appearance, and can even correct slightly crooked teeth.
What To Expect
During your visit to Lifetime Dental, our dentists, Dr. Gubler, Dr. Gorman, or Dr. Hill, will walk you through each step of the process. They will create a unique model of your teeth, which is then sent to a dental technician, who creates your veneers specifically for you. Before placement, our dentists will conservatively prepare your teeth. Once completed, you can show off your new smile! Normal brushing and flossing are recommended to maintain your new veneers.
Interested in learning more about dental veneers in Rogers, Arkansas? We are happy to help! Call or text us at 479-631-9393 today for an appointment!