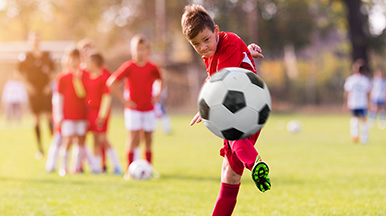 Playing sports can be a fun and fulfilling activity, especially for children and teens. It is not, however, without its dangers, particularly for your child's smile. Injuries to the mouth and teeth are common among athletes.
Prevention with Mouth Guards
Our office recommends athletic mouth guards to keep your child's teeth protected. These oral appliances are specifically made and fitted for your child's teeth and mouth. They cushion the teeth and protect them and the soft tissues of the mouth from damage during high-impact games, such as football, soccer, basketball, hockey, martial arts, and other touch-based sports. Call our office at 479-631-9393 to make an appointment for an athletic mouth guard, or talk our team at your next visit to learn how easy it is to get one made for you or your child.
Common Dental Sports Injuries
Chipped or Cracked Teeth
Our dentist will likely take an x-ray to determine best treatment.
If you have the chipped piece of tooth, bring it with you to your appointment. Often, it can be bonded back in place.
A chip can often be repaired with a filling or bonding alone.
If the chip is serious and exposes the pulp of the tooth, get to the dentist as soon as possible.
Loose Teeth
If a tooth was moved or displaced due to injury, contact our office immediately.
It is best not to move the tooth further. Apply ice and contact our office.
Our dentist will examine the loose tooth, attempt to stabilize it, and determine any further action.
Knocked-Out Teeth
Time is most important if a tooth has been knocked out. See your dentist or endodontist within 30 minutes.
Do not touch the root of the tooth. Pick it up by the crown (chewing surface).
If needed, rinse gently with water only.
If possible, reposition the tooth back into the socket and press down gently.
If you cannot reposition the tooth back in the mouth, place the tooth in cold milk, or use saliva, saline solution, or water to keep the tooth from drying out.
Do not wrap up the tooth.
Bring the tooth to your appointment.
In all of these instances, please contact Lifetime Dental at 479-631-9393 as soon as possible for an appointment with Dr. Gubler, Dr. Gorman, or Dr. Hill. Our team stands ready to help you or your child with your dental sports emergency in Rogers, Arkansas.
Emergency Sports Dental Care
In the event of a sports emergency that involves damage to the neck, head or jaw, we strongly recommend visiting the emergency room before seeking dental treatment.