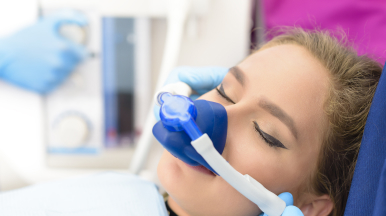 We understand that going to the dentist may be stressful for some patients. So if you are nervous about your visit, please let us know! We want to be sure you are as comfortable as possible, especially if you require additional care during your dental treatments, and we are happy to provide dental sedation in NWA to those who need it.
Benefits of Sedation
Sedation dentistry provides an effective and safe way to ensure extra comfort during your dental treatment. Benefits include:
Less anxiety and fear during treatment
Increased ease when sitting still for a long period
Less apprehension about certain procedures
A more comfortable, relaxed dental experience
Mild Sedation
Each of our sedation option offers solutions for your comfort during dental treatment. Typically, mild sedation options are sufficient for most patients.
These include:
Nitrous Oxide: Also known as laughing gas, nitrous oxide is a conscious sedation inhaled through the nose as an air vapor. It helps you feel calm and at ease during your treatments, and the effects fade within minutes after the gas is removed.
Oral Sedation: Oral sedation is medication swallowed directly before treatment begins. There are options for children and adults. You will remain awake but relaxed during treatment. Feeling sleepy is not out of the ordinary, and not remembering many details of your appointment is normal. You must have a family member or friend drive you to and from your appointment if you desire oral sedation.
Moderate Sedation
Moderate sedation options are primarily needed if you require more extensive care for your smile, such as oral surgery, extensive treatment, or severe dental anxiety.
IV Sedation: As moderate sedation option, IV sedation, is also a considered a conscious sedation method; however, patients typically do not remember much at all from their appointment.  Known as twilight sedation or deep sedation, you will remain awake, though very drowsy and relaxed, during treatment. If you choose IV sedation, it is vital that you have someone drive you to and from your visit. Dr. Gubler is a certified provider in administering IV sedation.
For more information about our options for sedation dentistry in Rogers, Arkansas, give Lifetime Dental a call at 479-631-9393 and schedule a visit with our dentists, Dr. Gubler, Dr. Gorman, or Dr. Hill.