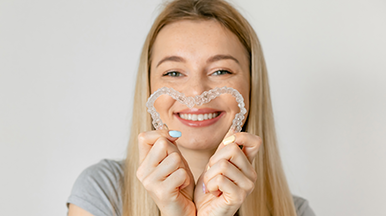 Are you ready for a more confident smile? SureSmile® Clear Aligners may be the right treatment for you! Invest in your long-term oral health and discover the added value that flashing your best smile can provide.
What Are SureSmile® Aligners?
Modern orthodontics has expanded past traditional braces into more convenient options, such as SureSmile® Clear Aligners. Dr. Gubler, Dr. Gorman, and Dr. Hill may recommend this treatment as the perfect solution to straighten your smile. SureSmile® Clear Aligners use advanced technology and proven materials to provide a customized, comfortable fit from the first aligner to the last. Made from a sturdy plastic, the custom-tailored trays slowly move your teeth into the correct position over time to create your best uniform smile.

Benefits of SureSmile® Aligners
As a more subtle option than traditional braces, SureSmile® Clear Aligners offer convenience in both form and function. The clear aligners keeps you smiling more during treatment with minimal visual impact.  Because they are not fixed in place, patients remove them when eating and cleaning their teeth, making brushing and flossing a no-stress regimen.
What To Expect
Our team will first recommend a consultation at Lifetime Dental to determine if clear aligner treatment is right for you. If treatment is recommended, the next step would be digital scans, photos, and exam. The images will be used to create your aligners. Once you receive your aligners, your treatment will begin. The aligners are made of a strong plastic material, which you will change every two weeks. With each new and slightly different set, your teeth will move a little more toward their proper alignment. We recommend following your treatment protocol strictly for optimal results. Periodic checkups with your dentists, generally once a month, will monitor your progress until your teeth have moved to their final position.
If you think SureSmile® Clear Aligners are right for you, call or text 479-631-9393 and schedule a consultation at Lifetime Dental in Rogers, Arkansas today. Let us help you achieve your smile goals!