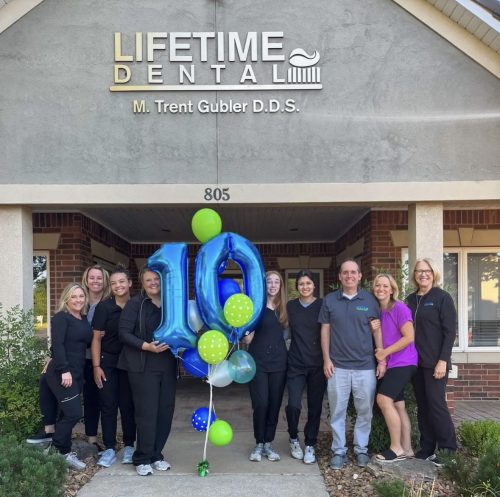 Ten years ago, Dr. Trent Gubler began his first day of practicing in Arkansas! After graduating from Loma Linda Dental School and completing a residency at University of Utah hospital, Dr. Trent bought a practice in Las Vegas. He doesn't remember a time when he didn't want to grow up to be a dentist, like his dad. In fact, he is part of a family dental legacy. He has a brother who owns a dental practice in Wisconsin, two brothers practicing in Nevada, and a sister who is a hygienist with her dentist husband in Utah. So while Dr. Trent has wonderful friends, staff, and colleagues locally to discuss best practices or newest dental technology with, he also has his family!
It was during his time in Las Vegas where he continued education and excelled in IV sedation, dental implants, root canals, and much more. He was contracted as a dentist for the MGM hotel, was the dentist for many performers and athletes, and helped run a pediatric practice for a friend during a health crisis. While the practice he purchased was established and thriving, he and his wife Rachel, felt like it was hard to "get settled." One thing led to another, and after eight years of practicing there, the Gubler family felt called to sell their practice and purchase one in Northwest Arkansas.
Dr. Trent has absolutely loved growing Lifetime Dental and its team! Northwest Arkansas has brought many opportunities and joys, including being a sponsor for the NWA Food Bank Gala Music Video, sponsoring art, music, school, and sports groups, and serving with the Samaritan Dental Clinic. Not only has his dental practice expanded, but the Gubler family has as well. If you have been a patient of Lifetime Dental, you have no doubt seen the pictures on the wall of his beloved family and heard him share stories of his four children growing up here.
If you are new to the area, or are looking for a new dentist, you will be happy choosing Lifetime Dental to care for your dental needs. Dr. Trent has a calm and kind demeanor, and treats patients and staff with great love and respect. He often shares that just like Chick-fil-A, it's "his pleasure" to serve those with dental needs. As the owner of the practice, he frequently shows his thankfulness for all the staff and patients that have and continue to make Lifetime Dental a wonderful place to celebrate working. So today, July 10, 2023, on his 10th Work Anniversary in NWA, we all want to say, "Thank you Dr. Trent for all the good you have done in our dental office and community for the past 10 years!" Many have been blessed by your time, talents, education, skill, and care.